Surface Coatings for Agricultural Machinery
The agricultural sector is Western Australia's second major export industry, with a variety of different types of agricultural production taking place courtesy of the state's vast size, and varied soils and climates.
This variety in different types of agriculture leads to variety in the types of equipment and machinery that is employed by farmers. The scale of the agricultural operations mean that this equipment is often expensive and advanced – so farmers and manufacturers look to us to help them prolong equipment life and assist in production efficiency by applying advanced surface coatings to their machinery.
Protective and Surface Release Coating for Agriculture
We know that you are likely to be in a remote area, so you have to have reliable surface coatings for your equipment – any down-time is likely to be costly and inconvenient.
We provide Australian farmers and machinery manufacturers with the friction control and surface release coatings that prevent equipment jams, and protective coatings to prolong equipment life.
Characteristics of our service are;
1. Consistent, high quality coatings (see our section on our QMS).
2. Experienced, skilled personnel. Technical expertise and advice on coatings options.
3. A rapid response, and reliable coatings you can trust.
4. Facilities based in Perth, WA.
See below for some practical examples of the types of coating we handle for our customers in the agriculture industry.
---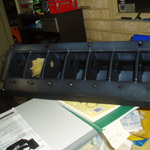 Tefzel ETFE
This is an air feeder and seed/fertiliser spreader coated with fluoropolymer.
The new coating prevents blocking and jamming of fertiliser and seed which is a major problem when seeding a paddock which could be miles from anywhere.
---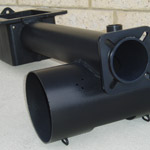 Tefzel
This is a different type of seed spreader which is auger fed.
As before, it was coated in a hard-wearing fluorpolymer which imparts surface release and friction-reduction qualities on the component, reducing the likelihood of jamming and malfunction.