Anti-friction Reinforced PTFE Coatings
Armourcote® is the ultimate coating for applications requiring exceptional non-stick, abrasion resistance and low friction co-efficient properties.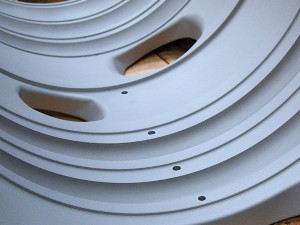 A result of our ongoing research and development, Armourcote® composite coatings overcome the basic limitations of softness which are inherent in traditional fluoropolymer and fluorocarbon systems whilst retaining all the required properties of the polymers.
Key Properties

Typical Applications

Surface release (non-stick)
Excellent abrasion resistance
Low co-efficient of friction

Mixing bowls and vessels
Vibratory conveyer systems
Dough hoppers and moulders
Paper dying cylinders
Textile dye troughs
Armourcote® 5700 Series
Armourcote® 5700 produces a durable, bonded coating containing finely divided Molybdenum Disulphide in a tough, thermosetting resin binder. This makes it an excellent low cost alternative to galvanising or zinc plating, with lubrication and galvanic corrosion protection.
The benefits of this system are superior corrosion protection compared to most common plating techniques. The completely dry lubricating film resists pickup of dust, dirt and other harmful contaminants and has excellent resistance to a broad spectrum of aggressive chemicals and solvents. With uniform friction of coefficient, Armourcote 5700 allows accurate tensioning of threaded fasteners, reduces wear, extends component life, eliminates pickup and fretting corrosion, and reduces risk of seizure.
Brass nuts that are currently coated with Armourcote® 5700 for solar heating equipment, if uncoated would likely seize with the steel when the time came for the engineer to service. This enables the manufacturer to continue to provide a 5 year warranty on their units, avoiding the seizure of brass nuts, by having them coated and protected with Armourcote® 5700.