New Chinese base confirms global commitment from Surface Technology
Surface Technology, global leader in the development and application of specialist surface treatments, part of Norman Hay plc, has responded to growing business demand in the Far East with the creation of a dedicated headquarters in China for Integrated Process Solutions (IPS), a management and project service division of the company.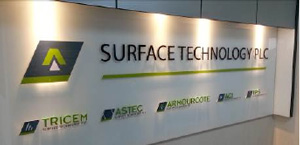 Strategically located in the Dalian Liaoning Province in northern China, within the Dalian Business & Development Zone and just 30km from Dalian Airport, the new headquarters is just a short flight from both Beijing and Shanghai.
It will be the base for 10 staff, complementing the existing sub-contract coating and plating operations offered by IPS which employ a further 35 people, and will be headed up by IPS China General Manager Leon Liu.
Meeting the needs of industries from automotive and aerospace to oil & gas, defence and renewable energy, IPS has served the local Chinese market for nearly a decade. Services range from project and operations management to operations improvement, partnership and auditing by the company's team which is TS/ ISO 9001/ 14001 /18001 /CQ-11 certified.
Steve Hubbard, Operations Director for IPS, commented: "Investment in China has grown significantly over the last few years and the time is absolutely right to establish a dedicated local base to better meet the needs of our customers. It's recognition of the importance of the Chinese market to our business and creates the perfect platform to showcase the extensive knowledge and expertise we offer locally, backed by the global resources of Surface Technology and the wider Norman Hay group.
"This knowledge base enables IPS to be flexible across a broad range of industry sectors, ensuring all aspects of a project are understood, defined and achieved. Above all, we recognise that finishing is not a back-room operation but a key value-added process for our customers, and our aim is to maximise their return on their investment in this process."
The new IPS headquarters is located at the GuGeng International Business Building, Jin ma Lu, Dalian Development Zone.
The IPS China team can be contacted by calling: +86 411 87562281