Surface Technology launches new brand identity and website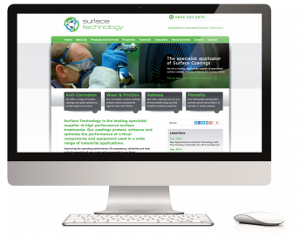 Leading specialist supplier of high performance surface treatments, Surface Technology, has launched a new website and corporate identity to support the company's strategic vision for growth and expansion over the next decade and beyond.
Surface Technology, part of Norman Hay plc, has grown both organically and through acquisition to offer a comprehensive range of surface treatment processes to a wide range of industries, including oil & gas, automotive, aerospace and medical, both in the UK and internationally.
The new website offers a clean, modern design, easy-to-navigate functionality, and a content-rich site experience. It has also allowed the company to bring more than 60 years' technical knowledge and experience together to help make the optimum surface treatment selection process easier for customers, allowing search by surface finishing process or by issues such as corrosion, wear, release and porosity.
Andrew Courtney, Group Operations Director at Surface Technology said: "This new website is to provide one more access point and online resource for companies and individuals to learn more about our comprehensive range of coating and plating treatments, and how we can help them improve the performance and extend the lifespan of their components and equipment through selecting the right surface finishing solution."
"The design makes it easier for visitors to clearly navigate through the company's total product and service offering – showcasing our multi-coat capability, extensive industry and customer approvals and ability to handle components across a wide range of sizes from miniature ball bearings to those measuring more than 60ft in length or weighing up to 100 tonnes. Presenting strong visual impact throughout, the site is divided into industry-specific areas and provides sections detailing specific product options and applications, and associated services."