Getting Beneath The 'Surface Technology' at AOG Exhibition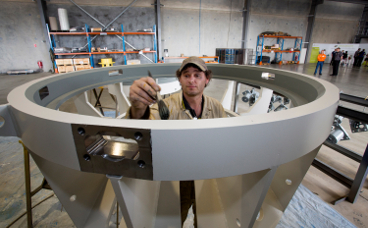 Leading supplier of specialist engineered coatings for the global oil and gas industry, Surface Technology, is returning to the Australasian Oil and Gas Exhibition and Conference in 2014, following a successful visit to the event in 2013.
The event returns to the Perth Convention and Exhibition Centre in Perth, Australia 19th-21st February. This year, it will see the merging of the AOG Conference and the Subsea Australasia Conference which will provide an enhanced experience for both speakers and delegates.
Surface Technology, part of Norman Hay plc, has more than 40 years' experience in the development and application of high performance surface treatments for a wide variety of industrial applications, with particular expertise in meeting the needs of the global oil and gas industry. The company has recently expanded its Australian operation and has relocated to a new purpose-built site in Jandakot, WA to meet growing demand.
The company is an approved supplier to many of the leading industry OEMs, providing surface treatments and technical advice to improve component performance in hostile and challenging subsea and offshore environments.
At the event, delegates will also be able to find out more about Surface Technology's comprehensive range of coating, plating and surface preparation services which now include a wide range of thermal spray coatings and, through sister Norman Hay company SIFCO ASC, selective plating. SIFCO ASC has considerable experience repairing equipment and enhancing OEM components within the Oil & Gas industry, including the selective plating of copper onto premium threaded connections and onsite repair of critical offshore platform components.
Andrew Courtney, Group Sales and Marketing Director of Surface Technology said:
"Our wide range of surface enhancement technologies can help to reduce costs, extend equipment life and significantly reduce downtime so we are looking forward to showcasing our solutions with visitors to the Australasian Oil and Gas Exhibition and Conference.
"Technical experts from Surface Technology will be on hand throughout the exhibition to offer advice on specific industry issues, and guidance on how to select the best solution for particular applications."
You will find Surface Technology on Stand A17 in the Subsea Zone.
For more information on Surface Technology Australia, email General Manager Mark Huxley at Mark.Huxley@surfacetechnology.com.au or register for the event at: https://register.aogexpo.com.au/start.asp
Until 1st January 2014, Surface Technology Australia traded as Armourcote Hi-Tech Industrial Coatings.